Manly Beach, located in Sydney,New South Wales, is a popular destination known for its stunning coastline, vibrant atmosphere, and abundance of recreational activities. Situated on the northern side of Sydney Harbour, Manly Beach offers a perfect blend of natural beauty and urban charm, attracting visitors from all over the world.
With its golden sands stretching for approximately 1.5 kilometres, Manly Beach provides ample space for sunbathing, picnicking, and beachside strolls. The crystal-clear waters of the Pacific Ocean are ideal for swimming, surfing, and other water sports. The beach is patrolled by lifeguards, ensuring the safety of swimmers and providing peace of mind for visitors.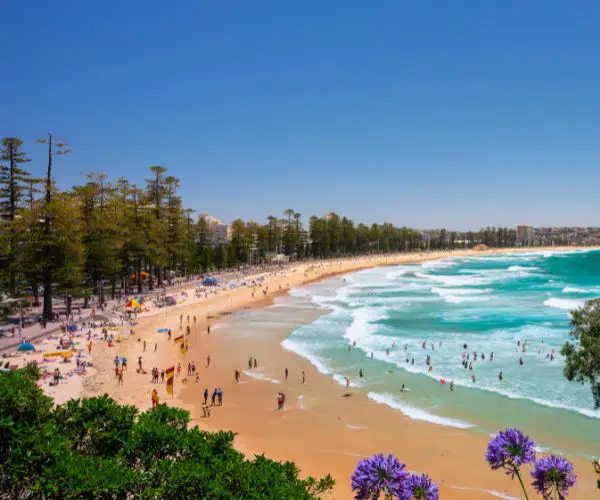 Key Visitor Information for Manly Beach
Manly Beach Weather
Manly Beach experiences a temperate climate, making it enjoyable to visit throughout the year. In summer (December to February), the average temperature ranges from 25 to 30 degrees Celsius, creating perfect beach weather.
Autumn (March to May) brings slightly cooler temperatures, with averages around 20 to 25 degrees Celsius.
Winter (June to August) sees temperatures averaging around 15 degrees Celsius, providing a refreshing atmosphere for coastal walks.
Spring (September to November) brings mild temperatures of 20 to 25 degrees Celsius and is a delightful time to explore the beach and surrounding areas.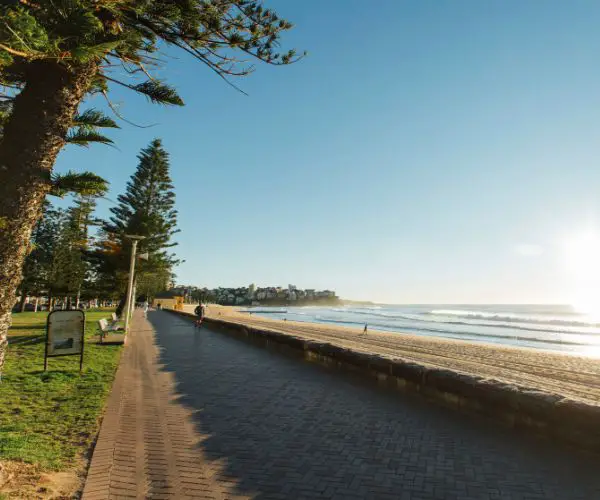 Directions to Manly Beach
To reach Manly Beach from the centre of Sydney, visitors have several transportation options. The most popular and scenic way is to take a ferry from Circular Quay to Manly Wharf. The ferry ride offers breathtaking views of the Sydney Harbour Bridge, the Opera House, and the coastline. Alternatively, one can take a bus or drive to Manly Beach, which is approximately 17 kilometres north of Sydney's city centre.
Things to see and do at Manly Beach
Visitors to Manly Beach can indulge in a wide range of activities and attractions. The beach is renowned for its fantastic surf breaks, attracting surfers of all skill levels. Lessons and equipment rentals are available for those looking to learn or improve their surfing skills. The Corso, a pedestrian mall that connects Manly Wharf to the beach, is lined with boutique shops, cafes, and restaurants, providing plenty of opportunities for shopping and dining.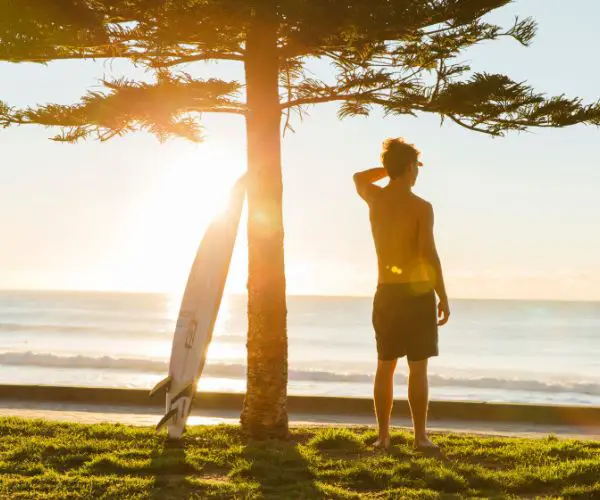 Nature lovers can explore the stunning North Head, a nearby headland with walking trails offering panoramic views of the ocean and the Sydney skyline. Shelly Beach, a picturesque cove adjacent to Manly Beach, is perfect for snorkeling and diving, with a vibrant marine ecosystem to discover. Manly Sea Life Sanctuary, located near Shelly Beach, provides an up-close encounter with a variety of marine species, including sharks, stingrays, and penguins.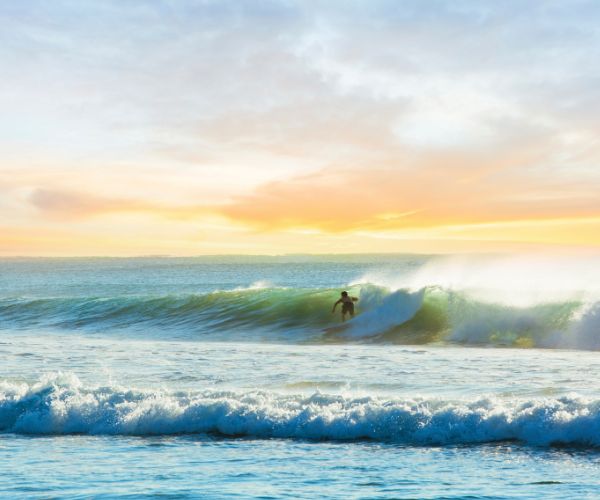 Nearby Places to Eat
For food enthusiasts, Manly Beach offers a diverse range of dining options. The nearby Manly Wharf precinct features a selection of waterfront restaurants and cafes, serving everything from fresh seafood to international cuisine.
One popular cafe is The Boathouse, located on Shelly Beach Road, which offers a charming beachside setting and a menu filled with delicious brunch options and artisanal coffee.
Another renowned establishment is Hemingway's, a lively bar and restaurant situated on The Corso, known for its extensive cocktail menu and modern Australian cuisine.
Nearby Accommodation
When it comes to accommodation, visitors have various options near Manly Beach.
Novotel Sydney Manly Pacific is a beachfront hotel offering stylish rooms with ocean views, an outdoor pool, and a restaurant.
The Sebel Sydney Manly Beach is another popular choice, providing spacious apartments with balconies, a rooftop pool, and stunning views of the beach.
Additionally, there are numerous holiday apartments and vacation rentals available in the area, catering to different budgets and preferences.