Millaa Millaa Waterfall is a spectacular sight located in the small town of Millaa Millaa, Queensland. The waterfall is a popular tourist destination and it's easy to see why – the view is simply amazing! If you're looking for an incredible Australian waterfall to visit, be sure to put Millaa Millaa Falls on your list.
The Millaa Millaa Waterfalls are located in the Millaa Millaa township of Queensland, Australia. The falls flow over a series of rocks and into a natural pool below, creating a spectacular sight. Visitors to the falls can take in the views from the viewing platform, or take a dip in the pool to cool off on a hot day. 
The falls are also a popular spot for photographers, as the beauty of the setting makes it an ideal location for capturing stunning images. Whether you're looking to enjoy a refreshing swim or simply take in the incredible views, the Millaa Millaa Waterfalls are definitely worth a visit.
Things to do & See at Millaa Millaa Waterfall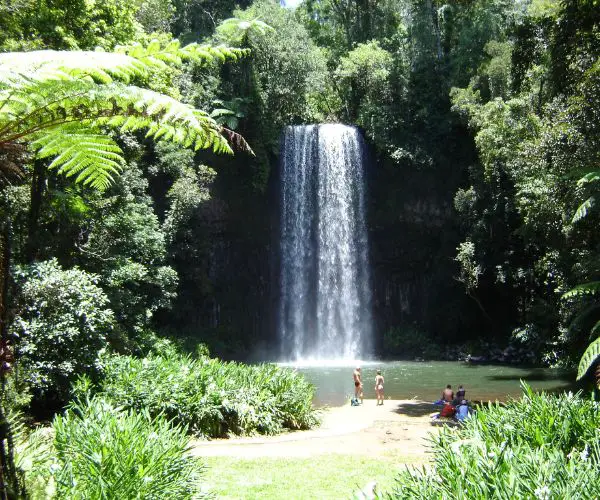 There's plenty to do at Millaa Millaa Waterfall! You and your family can enjoy a picnic lunch surrounded by the natural beauty of the falls, go for a swim in the refreshing water, or take a walk along one of the many scenic hiking trails. 
If you're feeling adventurous, you can even try your hand at abseiling down the waterfall! Whatever you choose to do, you're sure to have a memorable day at Millaa Millaa Waterfall.
Make sure to take a walk along the rainforest boardwalk – this is a great way to see some of the local wildlife up close. And of course, don't forget to take plenty of photos to remember your amazing experience at Millaa Millaa Waterfall!
Best Time to Visit Millaa Millaa Waterfall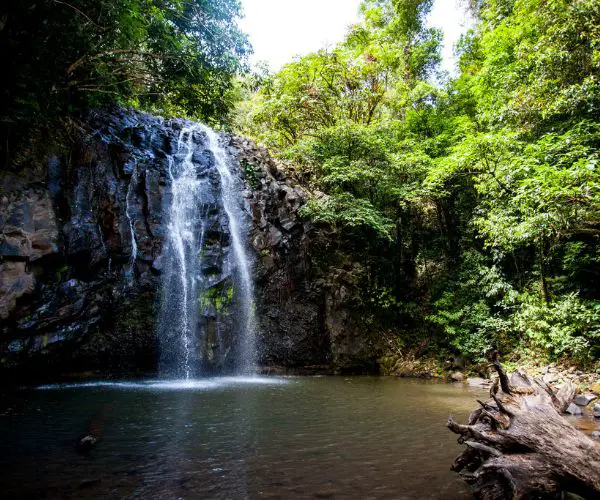 The best time to visit Millaa Millaa Waterfall is during the wet season, which runs from November to January. During this time, the falls are at their fullest and most impressive, and the surrounding rainforest is alive with blooming flowers and chattering birds. The wet season is also the best time to spot wildlife, including cassowaries, tree frogs, and fruit bats. 
However, you should be aware that during the wet season roads can be slippery and flooded, so it is important to take caution when driving. For those who prefer drier conditions, the shoulder seasons of May to June and October to November offer milder weather and smaller crowds.
Directions to Millaa Millaa Waterfall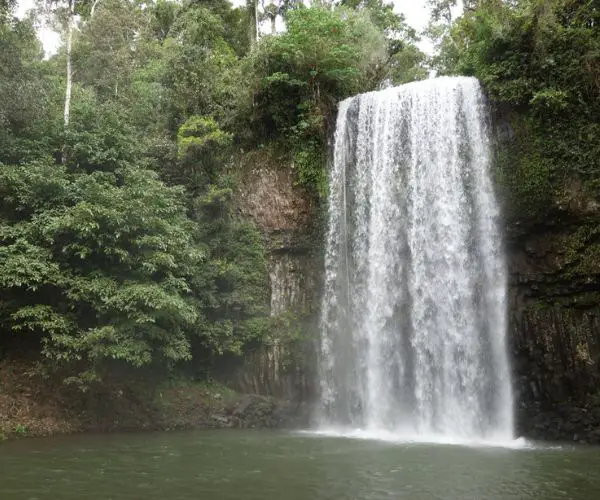 Millaa Millaa Waterfall is located in Millaa Millaa, Queensland. The easiest way to get there is by car. The exact address is: Millaa Millaa waterfall Rd, Millaa Millaa QLD 4886. From Cairns, take the Bruce Highway south for about 100km. Then take the exit for Mulligan Highway/Millaa Millaa Road and follow the signs for about 10km until you reach the waterfall. 
There is a large car park and picnic area at the waterfall, so it's a great place to stop and stretch your legs on a long journey. The waterfall is located in a rainforest, so it's a great spot for wildlife watching.
Attractions Nearby
There are many nearby attractions to Millaa Millaa Waterfall . Just a short drive from Millaa Millaa, Zillie Falls is another stunning waterfall that's definitely worth a visit. Be sure to take your camera so you can capture some beautiful photos. Malanda Falls is another must-see attraction in the area. This cascade waterfall is located in the World Heritage-listed rainforest and is simply breathtaking. The Curtain Fig Tree is one of the most unique trees you'll ever see. It's massive roots hanging down from the canopy create a "curtain" effect that's truly mesmerizing.